Fashion Faux Pas: All About Feet
Do not underestimate the power of your feet to make or break your fashion statement. Here's a list of the most common all-about-feet fashion faux pas.
Just because they're at ground-level doesn't mean that feet don't matter. If hair is considered a person's "crowning glory," then feet would be the "base of glory." How they look will definitely make or break a fashion ensemble. This article is devoted to all about feet, and describes the most common fashion faux pas when it comes to the bottom of our anatomy.
Fashion Faux Pas – All About Feet 1: Wearing open-toed shoes without getting a pedicure first
Open-toed shoes are supposed to be worn to flaunt perfectly clean and neat toe nails. So, if you hardly remember the last time you had cosmetic treatment for your toenails, don't even bother showing off something unpleasant. Look below before opting to wear open-toed shoes. If the flesh of your toes look parched and your toe nails look crooked and dull, the safest thing to do, fashion and reputation-wise, is to wear closed shoes.
Fashion Faux Pas – All About Feet 2: Wearing backless shoes with cracked and/or calloused soles
Similar with the immediately preceding fashion faux pas, backless shoes are meant to exhibit smooth, ruddy-healthy, soft-to-the-touch soles. You might think: "they're soles; nobody bothers." Trust me, everybody notices – especially the men. In the mean time, I suggest applying home remedies for your soles, which should include constant moisturizing. The most economical way to heal those unsightly soles is to rub petroleum jelly on them. For the time being, pay no heed to the backless shoes waiting in your closet, no matter how sexy you'd think they may look on you; otherwise you'd be a fashion faux pas victim.
Fashion Faux Pas – All About Feet 3: Wearing pumps or shoes with round-cut toes when the width of your feet is expansive
Let's face it: not all of us ladies are born with beautifully-tapered feet. Some of us have boat-like feet: broad and thick. If you have the same situation, do not wear shoes with round-cut toes like Pumps. As Pumps are normally flat and low-heeled, they will only emphasize the expanse of your feet. Choose instead to wear spike-high stiletto heels which usually have sharp toe edges. This can create the illusion of narrow feet. As stilettos, with their long and thin heels, are taller than pumps, they can place your feet at a more pleasing angle, and thereby allowing people to overlook the vastness of your feet.
Fashion Faux Pas – All About Feet 4: Closing your eyes to feet scars
If you deliberately take no notice of the unattractive scars on the surface of your feet to save yourself from needless stress, you can't expect everybody else to ignore them. It is best to presume that a majority of the people – friends, enemies, and even strangers - take in everything; including your feet blemishes. Start the habit of using a scar remover, which you can purchase at any convenience store. Patience is a virtue though, as this habit doesn't show results in an instant. The best thing you can do is to cover up the scars by applying make-up concealer or wearing silk stockings.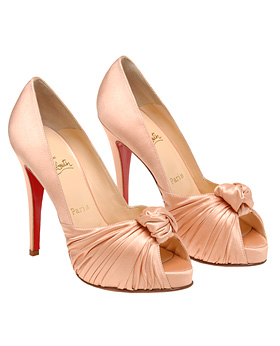 Fashion Faux Pas – All About Feet 5: Wearing poorly-maintained or damaged shoes
Admit it: some people judge a person by his/her shoes. For this reason, examine your shoes before wearing them to a party. It may come as a surprise, but poor shoe maintenance is also a fashion faux pas. Do not wear leather shoes without polishing them first. Make them look squeaky-clean and shiny. Polishing also makes your shoes look brand new. Do not wear shoes with worn-out heels. Buy a new pair, or at least, have the heels replaced. Do not wear silk or satin shoes with grease or water stains. There is no excuse. To maintain the quality of your shoes, it also helps to keep them safe from dust or pests.
Image References:
Spring Cleaning (pugsplace.com)
Cracked Heels (Heel fissures) (howshealth.com/cracked-heels-fissures/)
Wardrobe Essential: Basic Black Pumps (fashionmefabulous.com)
Christian Louboutin – Satin Peeptoe Shoes (iheartluxe.com)
3 comments